Restaurant
Chokos & Tere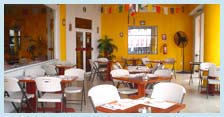 Ever since opening, 30 years ago, this restaurant has been a favorite with locals and tourists alike. Among the many mouthwatering specialties, is the fish fillet stuffed with crab meat and topped with melted cheese, called Relleno Tere, simply outstanding.
Crab House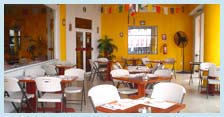 It will be difficult to choose from among a wide variety of delicious dishes that the menu of the restaurant offers, prepared with fresh seafood and with such enticing presentation that will leave your mouth watering. Jumbo shrimp, fish fillets and large crab legs are what have made the Crab House famous. Each platter is accompanied by different types of sauces or nutritious salads, making your meal a phenomenal gastronomical experience.
La Destileria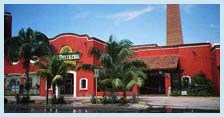 Treat yourself to the fabulous selection of incredible Mexican specialties, predominantly from the state of Jalisco, and accompany your meal with premium tequila from the restaurant's extensive beverage menu. One of the most popular dishes is the very traditional tortas ahogadas, (dunked Mexican subs), which are then dipped into a hot sauce. Other great choices that have captivated tourists from all over the world, include ceviche from Nayarit, birria, (goat in a broth), menudo (spicy tripe soup) and an assortment of moles from all over Mexico. Dine at La Destileria and discover the real flavors of Mexico.
La Dolce Vita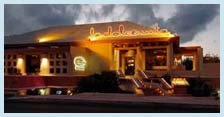 This locally and internationally acclaimed Italian restaurant, is renowned for its excellent service and enticing dishes made using only the finest ingredients. Run by the owners, who supervise the quality and service themselves, La Dolce Vita has a vibrant atmosphere and is a great choice for a romantic meal or dinner with friends and family.
Grill 14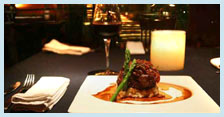 The elegant restaurant, Grill 14, is located beside the Nichupte Lagoon in the Hotel Zone. It has a concept that balances the rustic elements of the decor with upscale gastronomy. At this sophisticated spot you can enjoy a myriad of culinary creations made by our experienced chef. The setting is outstanding, complemented by the moonlight dancing on the calm waters of the lagoon, as you savor the gourmet dishes that Grill 14 has to offer.
Start your meal with one of their exquisite appetizers that include such dishes as fried shrimp with garlic and red chili or roasted scallops on a truffle and edamame puree. After which, enjoy a warm spinach salad with parmesan cheese or a portion of chambray lettuce with a sherry vinaigrette. Then choose from their great variety of wood-fired entrees, such as BBQ shrimps with avocado sauce, or grilled dishes that include fresh sword fish or rack of New Zealand lamb. For a truly wonderful dining experience, Grill 14 should definitely be on your list of restaurants to visit during your stay in Cancun.
Bubba Gump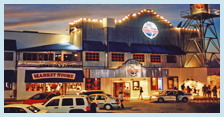 This lively restaurant is located in the heart of the Hotel Zone, in Flamingo Plaza. It is well known for its distinctive decor, based around the movie Forrest Gump, and the fun, family-friendly atmosphere. Diners keep coming back for the delectable specialties made with the freshest lobster and shrimp, however, if you're not in the mood for seafood, then they also serve succulent steaks and a great selection of zesty pastas. Enjoy the restaurant's stunning vista of Nichupte Lagoon from the comfortable terrace while you savor a delicious lunch or dinner.
El Cambalache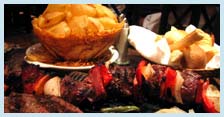 Enjoy dining at this Argentinian Steakhouse, while listening to the sensual rhythms of the tango. Accompany your meal with a glass or two of wine from their fabulous selection of Argentinean reds and whites. The service, just like the cuisine, is absolutely outstanding.
Capt. Charlie's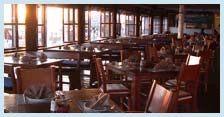 Located on the shores of the beautiful Nichupte Lagoon and a vantage point for the most stunning sunsets, Capt. Charlie's offers an extensive menu of original seafood specialties guaranteed to please everyone's palate, including juicy steaks, fresh seafood entrees, and all-you-can eat shrimp and fish. Pair your meal with a refreshing cocktail or select a fine wine from their well-stocked cellar.
La Casa de Las Margaritas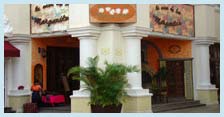 La Casa de las Margaritas at Plaza La Isla, in the Hotel Zone, serves delicious Mexican cuisine. Enjoy both traditional and eclectic dishes, the excellent service and the authentic Mexican ambiance. The restaurant features a variety of different rooms to choose from, each one with its own distinctive decor. Whichever one you choose you're sure to have a wonderful dining experience and a fantastic evening.
Carlos'n Charlie's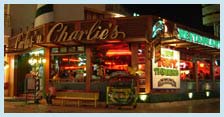 Located in Plaza Forum in the Hotel Zone, Carlos n' Charlie's is one of the best choices for dining with friends, or family. It is part of a reputable Mexican restaurant chain, well-known for its excellent food, attentive service and lively atmosphere. The extensive menu includes from Mexican specialties and American favorites to fresh seafood, pastas and delicious desserts.
Casa Rolandi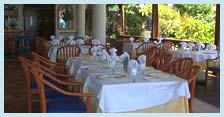 Casa Rolandi, proud recipient of the prestigious Five-Star Diamond Award, is located in Plaza Caracol. Specializing in Italian cuisine, their menu includes delicious pastas and delectable seafood and steaks cooked in a wood fired oven. Tropical plants, vines, and soft lighting perfectly complement the restaurants Mediterranean decor, creating a delightfully romantic ambiance.
Gustino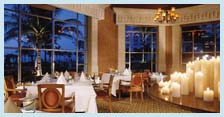 Gustino offers a delicious selection of Italian specialties, all beautifully presented. Some of the most popular dishes are the marinated mixed veggies, the cold cuts and the cheese platter. Just like the food, their service is also outstanding.
La Habichuela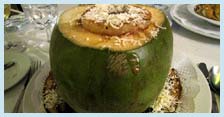 Enjoy a romantic dinner at this famous restaurant in Cancun amidst a beautiful Mayan garden. Try their 'cocobichuela', chunks of lobster and shrimp cooked in a curry sauce and served with rice and tropical fruit, just one of their many delectable dishes.
Hacienda El Mortero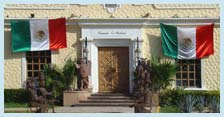 Built in the style of an old Mexican estate, Hacienda El Mortero takes you on a culinary journey of the finest Mexican cuisines. Accompany the exquisite dishes with premium tequila from their extensive selection. From beef and poultry to fish and seafood, all served with a variety if tasty salsas, when it comes to authentic Mexican food Hacienda El Mortero really does have it all.
Hooters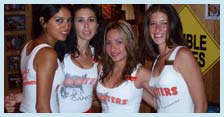 Watch the latest sporting events as you enjoy delicious hot wings or a variety of sandwiches and burgers, all washed down with a few icy cold beers served by the infamous Hooters girls! Just like any of their other 400 restaurants around the world, Hooters Cancun also has an incredible party atmosphere.
Jimmy Buffett's Margaritaville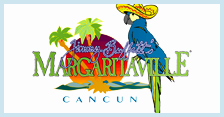 Have fun while enjoying the best Caribbean food in Cancun! When it comes to serving up delicious cuisine, Margaritaville is a great choice, combining the atmosphere of a fiesta, excellent service and amazing decor to guarantee you have a great time. After eating here, you'll realize that Margaritaville is not just a restaurant but a state of mind. With the music of Jimmy Buffett playing in the background and decorated in a tropical style, Margaritaville is a Mecca for fans of Jimmy Buffett and anyone who loves good food and entertainment. Make sure you try at least one of their signature Margaritas!
John Gray's Downtown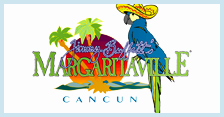 The chef's exceptional interpretations of international cuisine favorites, along with some of his own culinary creations, make this restaurant stand out from the rest. This avant-garde bistro, located in downtown Cancun, offers its patrons a unique culinary experience with alluring dishes always prepared with the freshest of seasonal vegetables and premium cuts of meat. Enjoy a generous feast of flavors, colors and textures from the starters to the main courses and decadent desserts served in this stylish Cancun establishment.
Lorenzillo's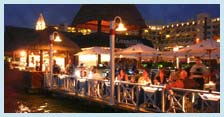 Lorenzillos's is a tradition in Cancun, and has been acclaimed on both a local and international level. They serve the best lobsters in town, harvested at their own farm that has a surplus of 10,000 lobsters. They are carefully fed and raised until they reach maturity, so you can always expect the highest standards of quality. Located on the Hotel Zone, this delightful restaurant offers a stunning view of the Nichupte Lagoon.
La Madonna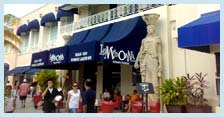 La Madonna, one of the best choices for dining in Cancun, serves the most extraordinary Italian and Swiss cuisines. The mezzanine level is perfect for a romantic dinner or to enjoy a few martinis and a fine Cuban cigar with friends. La Madonna has an air of sophistication and elegance backed up by the delectable cuisine and the extremely professional service.
Outback Steakhouse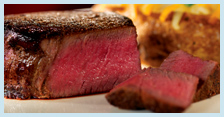 Enjoy succulent prime beef at Outback Steakhouse. Featuring decor that brings to mind the faraway Australian outback, this restaurant offers classic American specialties and a whole lot of Aussie-inspired dishes. The tenderness of the meat and the exquisite taste is due to an exclusive blend of seventeen spices used to marinate and season every steak. Also try the BBQ ribs or the fish and shrimp specialties, and their desserts are simply amazing!
Pat O'Briens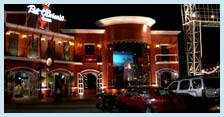 Dining at Pat O' Briens is always a fun time. Their friendly waiters, live bands and 'Irish pub' style decor enhance the experience. They serve delectable Cajun cuisine from New Orleans, exotic tropical cocktails, and a whole host of delicious appetizers. Don't forget to try the famous Pat O' Briens Hurricanes, simply outstanding!
Puerto Madero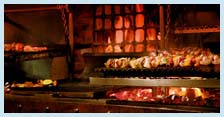 Located at the Barracuda Marina and reminiscent of the famous Puerto Madero, an uptown neighborhood in Buenos Aires, Argentina, this restaurant serves delicious prime beef, fish and seafood, all prepared using authentic Argentinean recipes. There is always a warm, cozy atmosphere, as diners savor the incredible flavors of the cuisine and the full-bodied wines begin to flow. Dine inside and enjoy the air-conditioning, or al fresco on their beautiful terrace with a stunning view of the Nichupte Lagoon.
Rainforest Cafe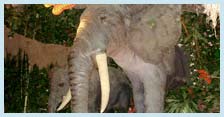 Kids will love dining at the Rainforest Cafe. It's like dining in a magical jungle, surrounded by realistic noises made by the moving models of wild animals. Enjoy exquisite specialties, such as delectable pastas, and also tasty starters like their hot wings.
Casa Rubi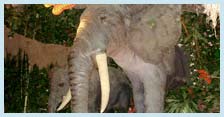 The exquisite presentations and quality ingredients, used in the preparation of each and every dish served at this fantastic restaurant, are sure to please even the most demanding diner. The menu of Casa Rubi features an array of tempting dishes, prepared by internationally renowned chefs, guaranteeing a real treat for all the senses. You can find this modern restaurant located very close to Plaza Las Americas Mall, in an avant-garde neighborhood that's becoming known as the gastronomic Mecca of downtown Cancun.
Thai Lounge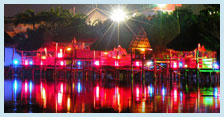 This sophisticated place, located in La Isla shopping mall, has become one of Cancun's favorite restaurants in recent years, for both locals and tourists alike. Contemporary decor and magnificent sunsets behind the lagoon are the perfect garnish to the exquisite Thai dishes served here. Try the bar's cocktails and choose a dish from an extensive menu. The mixture of exotic flavors and a unique Thai-village ambiance promise an unforgettable time.